Just as in HoudiniEsq Classic, 2.0 also supports BIRT reports. BIRT reports are reports built with a third-party open source tool called BIRT, (an acronym for Business Intelligence and Reporting Tools). The tool is aimed at developers, but any Law Firm that has an IT person on staff can use the tool to build reports for the Firm or a member of our Professional Services team can create what you need.
To access BIRT reporting in HoudiniEsq, click on the Reports dashboard at the top right of the main menu, then click on the "BIRT Reports" section.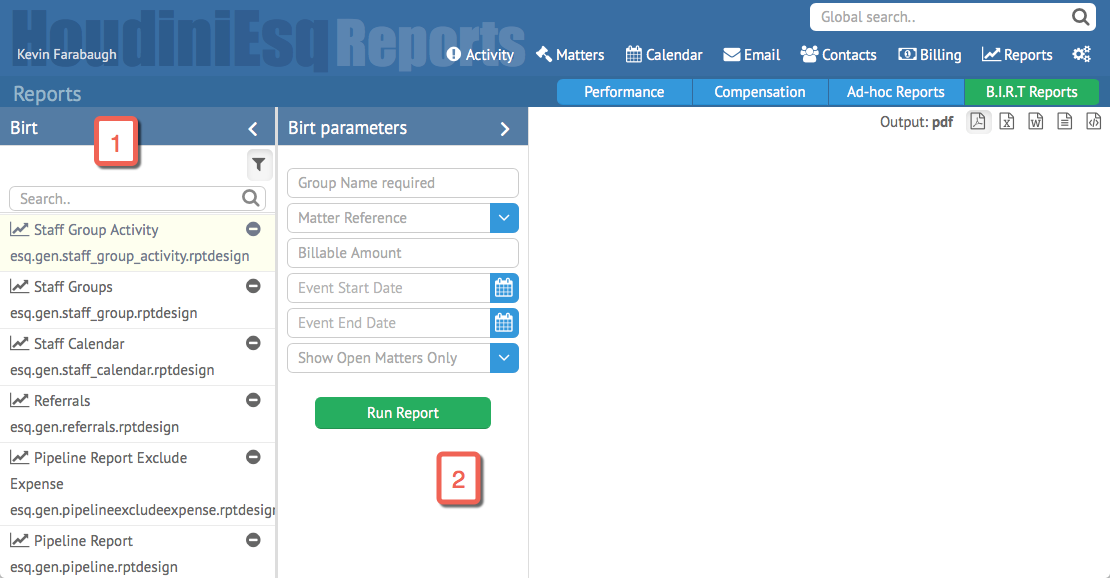 The BIRT section of HoudiniEsq 2.0 Reporting is comprised to 3 main areas:
Report List: HoudiniEsq 2.0 comes with several included BIRT reports. The list at the left of the screen provides information on the title and file name of these reports, and will allow you to select one to run. You can also Search for a report using the Search bar at the top. Clicking the (-) button next to a report will remove it from the list.
BIRT Parameters: This section takes the place of the Advanced Filter in the BIRT menu. Parameters are specified in the report itself, and allow you to apply targeted filters to the results when running it. These parameters can include a number of options such as Matter, Staff, Date range and even allow you to add charts and graphs when supported. The "Run Report" button will allow you to run the specified Report.
Report Output: The area to the right will show the final output of the selected report and parameters. Before you run the report, you can switch the formatting with the icons at the top right.

The icons represent several output formats. From left to right, they are:
PDF (Abobe Reader)
CSV (Microsoft Excel)
DOCX (Microsoft Word)
ODT (OpenOffice)
HTML (View in web browser)
The report output will be displayed on the right hand side of the page. Here is an example of the Staff Activity report in PDF format.