Workflows in HoudiniEsq 2.0 are a new concept. They are a sequence of steps through which tasks pass from initiation to completion. Tasks can be assigned to one or more Staff, and the progress of each Task can be tracked in real time for any Matter which they are assigned. Workflows allow you to use a Kanban-style chart to display your key tasks for each case in a more natural manner, and each "step" in a Workflow allows you to assign Triggers that occur when the task is moved to it on the chart. You can create workflows in Customize Mode.
Note that while Workflows use Todo records for their task assignments, unlike traditional Todo records (which are only viewable by Staff who are directly involved in the Todo) Workflows can be viewed by anyone who is a Matter Member. This allows any involved Staff to see the current progress of the Workflow assignment.

To access Workflow for a specific Matter, click on the Workflow icon in the Matter record. This will not be available on Matter Types where a Workflow is not currently defined.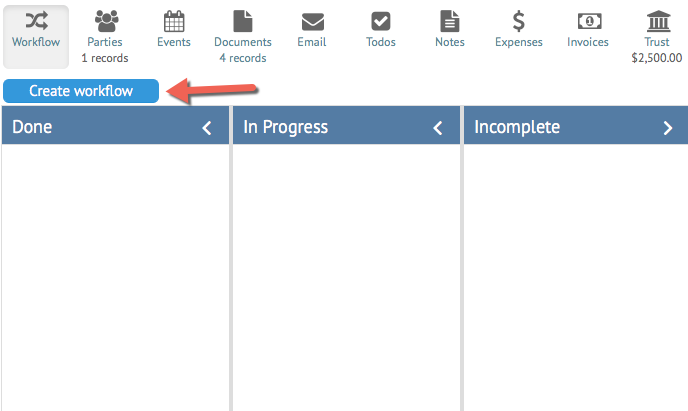 The current Steps for the added Workflow will be shown. To create a new Workflow, click the Create Workflow button.

Each assigned user will have a task to do. As they complete that task, they can drag it to the next step in the sequence. Once the task reaches the final step, it will be considered finished, and the task marked as Complete. Each Step can trigger the creation of multiple other records or notices as well as defined in Customize Mode.