In addition to the powerful Global Search function, HoudiniEsq 2.0 also has the ability to find and filter any text-based file by specific criteria using the Advanced Document Search. this search has the ability to perform a deep scan of any document in the system, but only if the document has textual content. If the document being searched for is a PDF that has simply been scanned in without any sort of OCR, it will not be able to find the content as the actual PDF is comprised of a series of images and not actual text.
With that caveat in mind, let's talk about how to access and use this feature. It can be accessed by clicking the document icon in the top right of the user interface at any time, regardless of which dashboard is currently selected.

Clicking the document icon will bring up the search interface. You can search for documents and attachments using up to 3 terms or phrases, with multiple options. Below we will describe these options in detail.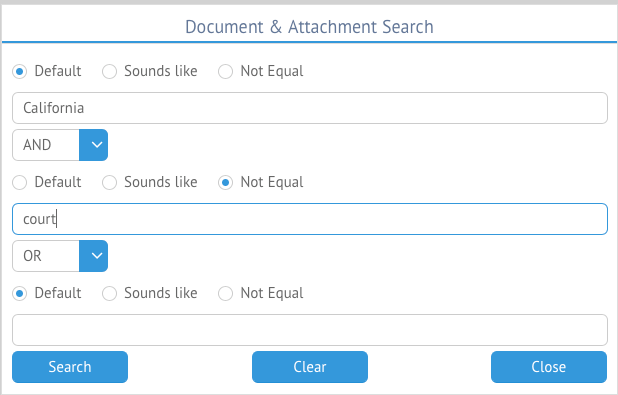 Default – This is the option to do a normal search. Having this selected will simply look for the exact term in either the file name or the content of the file, if possible.
Sounds like – This is the option for "fuzzy" searches, which will return all results which closely resemble the term that was selected. Use this option if you are unsure of the exact term you are trying to find.
Not equal – This option will allow you to exclude specific words from your search. Use this option to focus your results when searching for a word or phrase would normally return too many results to be of any use. This option should always be used with another search phrase.
AND/OR selector – Between each possible search phrase, you can select whether you want to do an inclusive search (OR) or an exclusive search (AND). Using OR will let you find you a broader array of documents, while using AND will allow you to narrow down the possible results. In the example above we are looking for documents which have the word "California" in them, but NOT the word "court".
Once you enter your search terms and click Search, you will see your results in the main window below. You can Clear the currently entered criteria, or simply Close the search box without performing the search as well.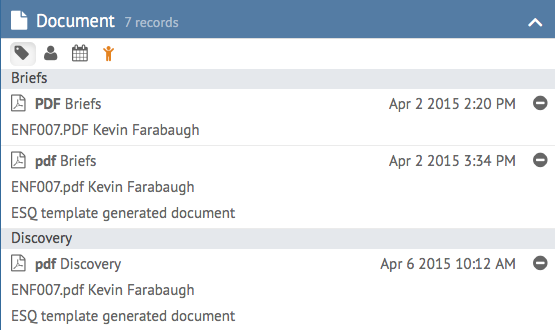 Double clicking any of the results will open the file. You can return to your previous Dashboard using the options at the top once finished.