If you wish to cancel your HoudiniEsq Cloud subscription, you can do so at any time by using the link available in your most recent invoice email. This email will always come from sales@houdiniesq.com and be titled "HoudiniESQ Purchase Receipt." At the bottom of the invoice email will be a "Cancel My Subscription" link. For an example, see the below screenshot.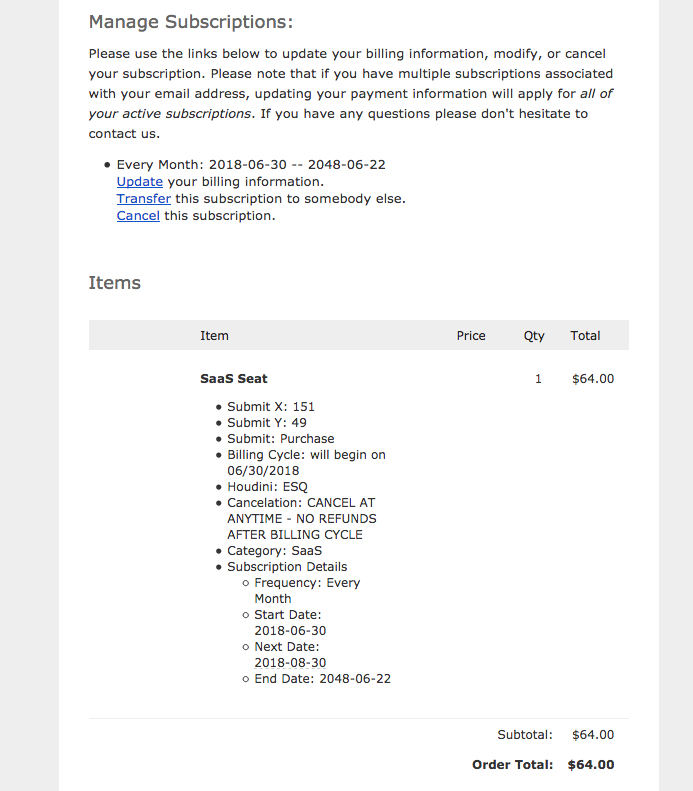 Doing so will ensure that your subscription to the service is cancelled. You will not be billed any further and your service will be terminated at the end of the current billing month. If you are cancelling due to dissatisfaction with the product, we would also appreciate your feedback via email as well as to what we can improve. Feel free to email us at support@houdiniesq.com.
Disclaimer: We will keep your data for a period of up to 90 days after cancellation if you wish to change your mind. If you would like a copy of your HoudiniEsq data to use On-Premise instead, please contact us direct at support@houdiniesq.com or call us direct at (919) 238-7024.